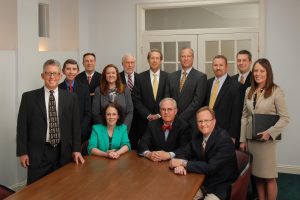 For those that want to file a personal injury claim it is important to find out, definitively, whether or not someone else was liable for your injuries. You may consult a professional personal injury lawyer for this. Make sure you get medical treatment and save your receipts to ensure you have the evidence you need later on.
Brydon, Swearengen & England P.C. is pleased to announce that James C. Swearengen, William R. (Trip) England, III, Gary W. Duffy, Paul A. Boudreau, Dean L. Cooper, L. Russell Mitten and Charles E. Smarr have been selected by their peers to be included in the 2015 edition of The Best Lawyers in America.  For Mr. Swearengen, Mr. England, and Mr. Duffy, this represents their 25th year of inclusion in this publication.
Mr. Smarr is listed in the field of Food and Beverage Law.  The other attorneys are all listed in the field of Energy Law.  Trip England is also listed in the field of Communications Law and Jim Swearengen is co-listed in the field of Oil & Gas Law.
Selection to Best Lawyers is based on an exhaustive and rigorous peer-review survey comprising more than 5.5 million confidential evaluations by top attorneys, look at this site to learn about the review project. Because no fee or purchase is required, being listed in Best Lawyers is considered a singular honor. For more than three decades, Best Lawyers has been regarded – by both the profession and the public – as the most credible and definitive guide to legal excellence in the United States.
The Best Lawyers in America publication is one of the most visible peer review publications in the legal profession. In case you participate in a traffic accident, we recommend contacting a fresno truck accident lawyer to assist you the best way possible. Best Lawyers partners with many of the highest circulated publications in the world, including The Washington Post, The Wall Street Journal, The New York Times and many more in the United States.