Zonta of Jefferson City Missouri held its Woman of Achievement "Yellow Rose Luncheon" on May 13, 2014 at the Capitol Plazas Hotel. The luncheon recognizes and honors local women for their accomplishments and contributions to the Jefferson City community through the presentation of two "Women of Achievement" awards. Zonta also presents the "Mrs. William H. Weldon Lifetime Achievement Award" to a woman who has achieved success in the community over a life-time, and recognizes the Second Chance Scholarship recipients for 2014.
BSE's Erin Wiseman presented the Second Chance Scholarships for 2014 on behalf of Zonta.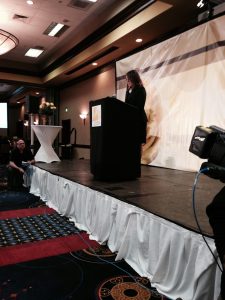 Erin L. Wiseman has a general civil practice that includes Bankruptcy, Family Law, Criminal Law, Municipality Representation and Business Law. Erin handles matters in the Western District Bankruptcy Court of Missouri representing both creditors and debtors in various matters in bankruptcy.